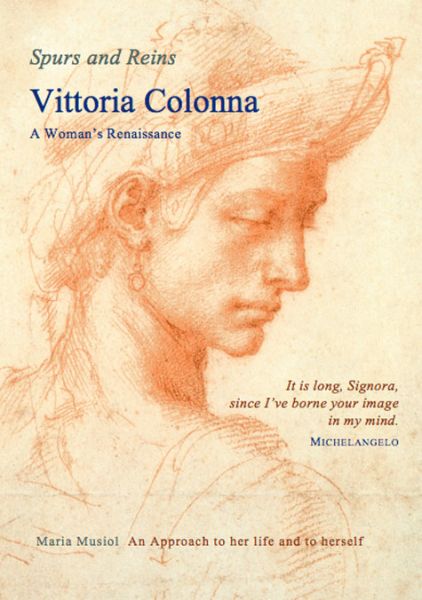 As Michelangelo loved Vittoria Colonna - she was the only woman in his life: "grandemente amò la marchesana de Pescara" (Condivi) - , he did neither paint a rigid portrait of her nor did he aim at an ideal image in his drawings. Intent on visualising her inner liveliness, he was also so much fascinated by her androgynous appearance that he wanted to transfigure his whole body into one single eye to rejoice in her delightful sight to the fullest.
COPYRIGHT - The reproductions of Michelangelo's drawings for Vittoria Colonna must not be copied nor used in any way except as specifically permitted by the trustees of the drawings: British Museum, London; Ashmolean Museum, Oxford; Academy, Venice; Louvre, Paris; Kunsthistorisches Museum ,Vienna; Casa Buonarroti, Florence.
Michelangelo and Vittoria Colonna
Scarce is the evidence about the relationship between Vittoria Colonna and Michelangelo. One letter by Michelangelo and two letters by Vittoria Colonna deal with a drawing of the crucified created by Michelangelo to do her a favour. Of numerous poems he dedicated to her, only one poem can be ascribed to her for certain, because he had scribbled it on the backside of a letter to his beloved Marchesa. In another letter, again without a date, enamoured Michelangelo, already in his sixties, is searching an occasion to pay her a visit. Vittoria gave him a politely disguised brush-off in her letter of July 20th (1542?) she sent him from Viterbo. On the other hand, she often travelled from there to Rome in order to visit her "singolarissimo amico". They exchanged sonnets and he drew a Pietà for her and a Samaritan woman at the well.
How much she worried about Michelangelo, is revealed in her letter to Alvise Priuli, whom she asked to get her a mirror at Venice. "I want to have it furnished with a pedestal to make painting easier for him, because he exhausts himself so much in the chapel of San Paolo."
The proof of her deep devotion to Michelangelo is hidden in the vellum codex Vaticanus 11539, which contains a canzoniere of her sonnets she had collected for him single-handed. Michelangelo mentions the present in a letter to his nephew Lionardo he wrote on March 7th, 1551. He had the 103 sonnets bound in vellum together with another forty sonnets Vittoria sent him from Viterbo. He kept the small volume like a treasure. After Vittoria's death he wrote to Fetucci that they had liked each other. "Death took a great friend from me. Morte mi tolse un grande amico."
"Unique Maestro and my most singular friend", Vittoria addressed him in a letter. The first superlative unique is even surpassed by the second: "My most singular friend".
Only by means of a synopsis of their letters, their poems, of the drawings Michelangelo created of Vittoria and for her, the relationship between these two geniuses can be revealed in greater complexity. One cannot help surmising Vittoria had a deeper significance for Michelangelo than being his muse or Platonic mistress.
Michelangelo created six drawings of her. The identity of Vittoria could be ascertained thanksto references to her physiognomy in written primary sources.

Michelangelo did not portray Vittoria. He created intimate drawings of her to visualise her emotional liveliness that mesmerised him. In secondary literature these drawings were vaguely called "Ideal head of a woman", "a woman", "the head of a young man." Vittoria has not been identified so far, although there had been some guesses as to her identity. But there was no proof.
Michelangelo did not idealise Vittoria in his drawings. Fascinated by her androgynous features – "a slightly masculine décor" (Giovio) –, he wished he could transfigure his body into one single eye to rejoice in her visual appearance to the fullest. Her distinctive features (long nose, full lips, rich hair, pretty ears, ear rings, anorexic meagreness) are rendered precisely by the artist and are confirmed by contemporary evidence: "She had the skin on the bones." Michelangelo drew her in her plain dresses she preferred as a widow and never forgot her widow's veal she bound round her head or wore as a turban and a head-scarf.
However, in one drawing, he created of her during her husband's life, Michelangelo rendered the predilection of vainglorious Marchesa for sophisticated coiffures she created herself to put her magnificent hair on show, "the hair of Leda." It is a kind of official drawing of the Marchesa of Pescara. The pendent representing her husband Ferrante d'Avalos, Marchese of Pescara, got lost. However two copies of the drawings exist as copper engravings. (Albertina, Vienna)
Michelangelo, who created his intimate drawings of her spontaneously, was made to do this one and it shows. He criticised Vittoria's faible for pompous appearances. In his view, she, a divine poetess, was in no need of showing off:
"Lezzi, vezzi, carezze, or, feste, perle, chi potria ma vederle?" – Jewellery, necklaces, flattery, gold, feasts, and pearls! Who perceives this gewgaw, when she creates things divine?